As part of our commitment to bring art education into southwest Florida, a youth art competition for grades K-8 or ages 5-13 is integrated into all of Hot Works events. Sponsored by the Institute for the Arts & Education, Inc., a 501c3 non-profit organization, young artists in grades K-8 or ages 5-13 are invited to apply with their original and personally handmade art. All entries are publicly displayed at the art fair the entire weekend of the event.
The competition gives budding artists a golden opportunity to begin learning the rules of being part of a professional art show and exhibition. It exposes young artists to the opportunity of creating his/her art for a living –doing something he/she loves to do, and, most importantly, how to do it. The art show provides these students with an unmatched learning experience and exposes families to the artwork. Young artists are encouraged to speak with the artists in the show – all professionals — and to ask them questions about participating in art shows as a self-employment career.
The Youth Art awards are juried by two professional artists in the show. Criteria are based on technique/execution and originality, which is similar to the criteria for the judging of the professional artist awards. There is $350 in youth art awards:
One $100 Best of Youth Art;
Three $50 Youth Art Awards of Excellence;
Five $20 Youth Art Awards of Distinction (this is a gift certificate to Miromar Outlets)
In addition to one of the prizes above, each winner receives a beautiful, colorful, two-foot long award ribbon. Awards are presented at the art show on Sunday at 3 pm, under the tent labeled "Youth Art Competition". Executive Producer Patty Narozny begins the presentation with, "If you do not win, and if creating art is something you love to do please do not be upset and do not give up making your art. Even the best artists never get accepted into all the art fairs they want to participate, nor do they win awards at every show. Please congratulate those who do win."
To date, more than 800 students have entered into our Youth Art Competition programs!
Previous years results: 2018, 2017
One $100 Best of Youth Art
Zachary Smith, Drawing, Age 14, North Fort Myers
Academy of the Arts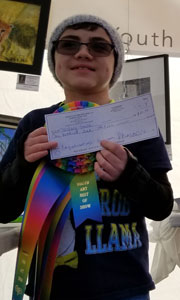 Three $50 Budding Artist Awards of Excellence: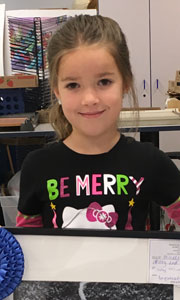 Mikayla Kidder, Drawing, Age 6
Gulf Elementary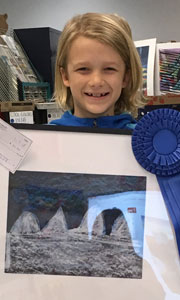 Cameron Leger, Drawing, Age 9,
Gulf Elementary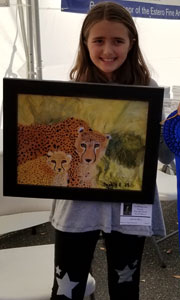 Sophia Rice, Painting, Age 10
Rayma C. Paige Elementary