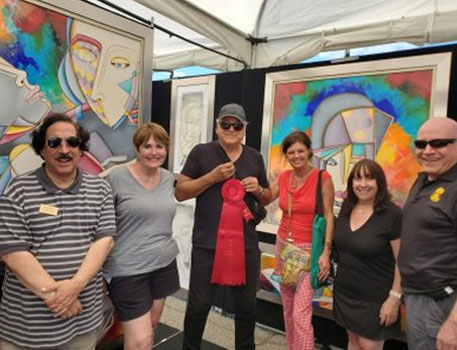 Hot Works Fine Art and Craft Shows have been recognized 18 times by national magazines and artist organizations as one of the "Top 100 Art Shows In America". Artists who know us well call us "family".
We know how busy you are and it's our goal to make the application process easy so that you can get back to work making art! Returning artists (5 shows in 3 years) may bypass the jury process with just a phone call! For our Florida shows, we also provide you with a "Fly and Show" display rental option for all those artists who come from other states or just don't have the time or energy to set up a Light Dome tent and Pro-Panels to hang your art…. we do it for you!
The Hot Works Difference
From the moment you drive up to a Hot Works show, you can see the difference. Our team will greet you with a smile, chilled water, snacks, and the support you need to make your show experience financially successful. We really care and our goal is to make your show experience pleasant and successful. We do everything possible to make it easy!
Our show locations are selected for their proximity to affluent neighborhoods, million-dollar homes and five-star resorts Florida. After 20 years, our flagship Orchard Lake Fine Art Show in West Bloomfield Michigan draws the second generation of new art patrons. At some of our shows, you'll drive right up and park directly behind your booth giving you access to additional work all weekend long.
If you're flying in you can pre-order a rented Light Dome tent, Pro-Panel walls, or jewelry cases.