As part of our commitment to bring art education into the community, a Youth Art Competition is integrated into the Orchard Lake Fine Art Show, located in the heart of West Bloomfield. The Orchard Lake Fine Art Show is "not just another art show". Produced by Hot Works, a company with a national outstanding reputation, this is a top-notch, juried fine art and fine craft show – voted top 100 art shows in America – 10 years in a row. All art is original and personally handmade by the artist who is at the show. There is something for everyone, in all price ranges. We bring many artists to this show who are not seen at other art shows.
The Youth Art Competition encourages students in grades K-8 or ages 5-13 to enter his/her original and personally handmade art in all forms of discipline. Sponsored by Performance Residential Remodelinglocated in Shelby Township and organized by Institute for the Arts & Education, the associated 501c3 non-profit organization, all entries are publicly displayed under the tent labeled "Performance Residential Remodeling Youth Art Competition". The program exposes young artists to the rules and entrepreneurship opportunity of being part of a professional art show and exhibition. Young artists are encouraged to speak with the professional artists in the show and to ask them questions about participating in art shows as a career. To date, more than 1,750 students have participated in this program.
Hot Works Orchard Lake Fine Art Showand Performance Residential Remodeling provide students with an unmatched learning experience, and exposes families to artwork that they otherwise may not see.
Criteria for judging the youth art is based on technique/execution and originality, which is similar to the criteria for judging of the professional artist awards. Seven Youth Art Competition awards include:
One $100 Best Youth Artist plus three-month paid art lessons to Steinway Gallery Arts Academy, with "Miss Lindsay's Art Room", Commerce Township
Three $50 Youth Art Awards of Excellence
Three $25 Youth Art Awards of Distinction (gift card from Target)
In addition, each winner receives a beautiful, colorful, two-foot-long ribbon, which is the same size ribbon that the professional artists receive.
On Sunday afternoon at 3pm at the show, Youth Art Competition awards are presented by Executive Producer Patty Narozny. She begins with, "Thank you for submitting your Youth Art Competition Artist entries. Please understand that art is subjective. Even the best artists are not accepted into all the art shows they want to participate, nor do they win a prize in every art show they do. For the young artists who do not win, and you love creating your art, please do not give up. Please congratulate those who do win."
Following the awards announcements, sometimes the artwork made by the Young Artists is so compelling, original and well-done that patrons are interested in purchasing student art. A Young Artist may or may not win a prize in the competition, but if he/she happens to sell his/her art, that is the goal to becoming a successful, professional artist!
Katelyn Lee, Age 13, Drawing, Canton, MI
Steinway Gallery Arts Academy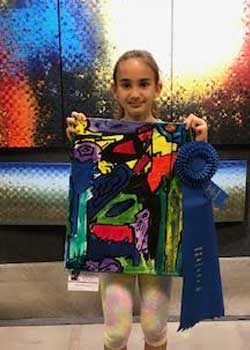 Anya Uscocovich, Painting, Charlotte, NC
E.E. Waddell Language Academy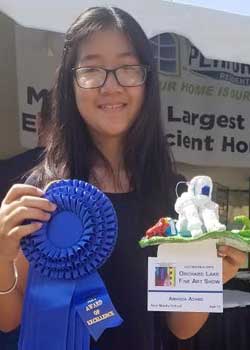 Amanda Adams, Age 12, Clay, Novi, Mi
Novi Middle School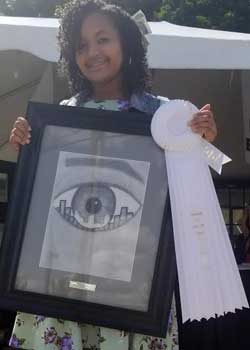 Gabrielle F. Robinson, Drawing, Age 12, Farmington Hills, MI
Abbott Middle School
Youth Art Awards of Distinction: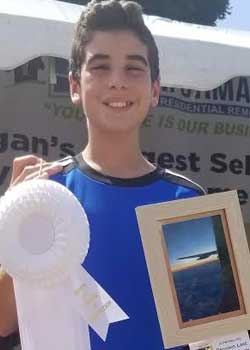 Joseph Farida, Age 11, Photography, West Bloomfield, MI
Steinway Gallery Arts Gallery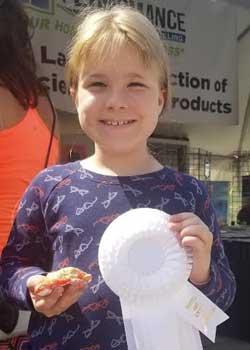 Charlotte Jolivet, Age 9, Clay, Rochester Hills, MI
Deerfield Elementary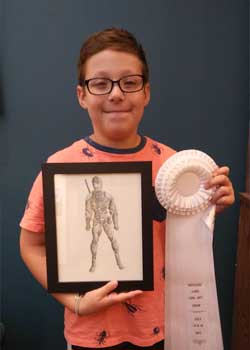 Noah Gordon, Age 10, Farmington Hills, MI
Steinway Gallery Arts Academy