We are waiting to see what happens with the state of Michigan as the governor's stay-at-home-order was extended. Accepted artists for the hot works 18th Orchard Lake Fine Art Show on July 25 & 26, – please do not pay any booth rents until after memorial day weekend. Once we know the event can happen. We will open applications for artists who are still looking to attend the show. As for now, we will have to wait and see!
18th Orchard Lake Fine Art Show

®
Saturday, July 25
Sunday, July 26
Sat 10am- 6pm, Sun 10am- 5pm

6900 Orchard Lake Road,
West Bloomfield Township, MI 48322
Plenty of free patron parking in back-half lot of West Bloomfield Beaumont Medical Center

With its rolling green hills and lavish homes, West Bloomfield provides an exceptional, tranquil setting for a beautiful art show.
Rated one of Money Magazine's "Best Places to Live" and nestled next to the world-renowned Cranbrook Art Institute, art-enthusiasts and patrons keep returning year after year.  Located in beautiful West Bloomfield, MI, The Orchard Lake Fine Art Show will showcase up to 150 renowned Juried Artists.  Voted one of the top 100 art shows in America – eleven years in a row!
Plenty of free parking in the back-half lot of West Bloomfield Beaumont Medical Center, 6900 Orchard Lake Rd, West Bloomfield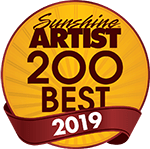 Patty, not only are you a great promoter and conscientious about the quality of your exhibitors, but you are truly a nice person.
What makes a good show? Sales certainly count. Patty is a media expert and uses all her knowledge to get great publicity and bring in the crowds. She wants a good show and is willing to provide every advantage she can, prior day set up, aggressive policing of buy-sell, fair jurying and numerous awards that help sales. I want to do her shows because she is on my side.
Patty, who produces the Hot Works shows, juries in the best artists from around the country, she runs art show of " pure talent." Her dedication to the arts is evident when you come to her shows! Her shows are wonderful and professional, as well as she is personally.
Event Sponsors
We strive to bring affluent, buying patrons to our shows, we are confident that our specific marketing strategies and positive national reputation will continue to attract a clientele that remains a perfect match for our artists, media partners, sponsors and vendors.